New era of Finale Plzen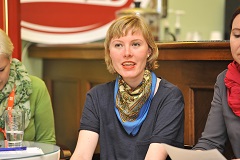 Finale Plzen Film Festival, which showcases and Czech and Slovak feature live action and animated films, documentaries and television and internet production and includes competition sections, starts a new ear this year. Its 29th edition, that will take place from 15th to 21st April 2016 in Pilsen, brings several changes, the biggest being a new organization team lead by Eva Veruňková Košařová as the festival director. For the first time, Finale Plzen will start on a Friday and end the next Thursday. The cornerstone remains the competition of feature length Czech films and selected Slovak production. The festival end with an award ceremony, where Golden Kingfishers will be given to the winners appointed by international jury. The accompanying program is also changing and the visitors may look forward to exhibitions, concert, readings, talk shows, parties and workshops and debates for film professionals. The place to be is Měšťanská beseda in Pilsne and newly also DEPO2015.
The new era for Finale Plzen comes mainly with the change in production team. "We would like to draw from the best that Finale Plzen had to offer in the past and at the same time launch a new future of the event. Practically speaking it means that we will keep the competition section in the program but the whole concept will be made more concise. We want to focus on making the event more prestigious, a place to be for both the filmmakers and general public, and we aim to attract young visitors," Eva Veruňková Košařová, the new Finale Plzen director, explains the new concept. The festival will once again bring an opportunity to see all Czech films made in the past 12 months and a selection of Slovak cinematography to both professional filmmakers and general public, and will offer space for discussions, networking and new partnerships.
Finale Plzen will also bring a rich accompanying program for filmmakers and fans alike. Industry Days and its panel discussions, workshops and presentations offer an opportunity to look behind the scenes of filmmaking and cinema. "Television production competition and related industry events bring a new dimension to the festival, mainly to its professional side. We see a potential there that we want to work with," Veruňková Košařová noted. ZOOM – Visegrad and Friends will be showcasing films awarded at film festival and national presentations within the Visegrad Four countries and their allies. Czech Footsteps in International Coproductions features films made in coproduction with the Czech republic and our Archives section will also bring in films with international reach. This year, we will screen the most famous foreign films with Czech film stars such as Anny Ondráková, Lída Baarová, Jana Brejchová or Olga Schoberová.
Once again, Měšťanská beseda in Pilsen will turn into the festival headquarters and film palace in April 2016. The vision is to turn it into an informal living space for people to come watch films, have coffee in the festival café, chat, meet the film stars and famous filmmakers and be a part of the whole festival atmosphere.
This year brings in a now space as well, as the festival venues also include DEPO2015, which will host the documentary films competition and some of the accompanying program. The former public transport depot is now an attractive space that should bring in more young viewers.
The festival peaks with awarding Golden Kingfisher to the winning films, which are selected by the international juries for statutory awards – best feature live action or animated film, best documentary, best TV serial production, best TV non-serial production - as well as non-statutory ones. The new festival era brings in a new festival logo, created by Carton Clan graphic studio. The logo depicts a kingfisher, a traditional symbol of the festival and its main award.