Winners of Finále Plzeň 2022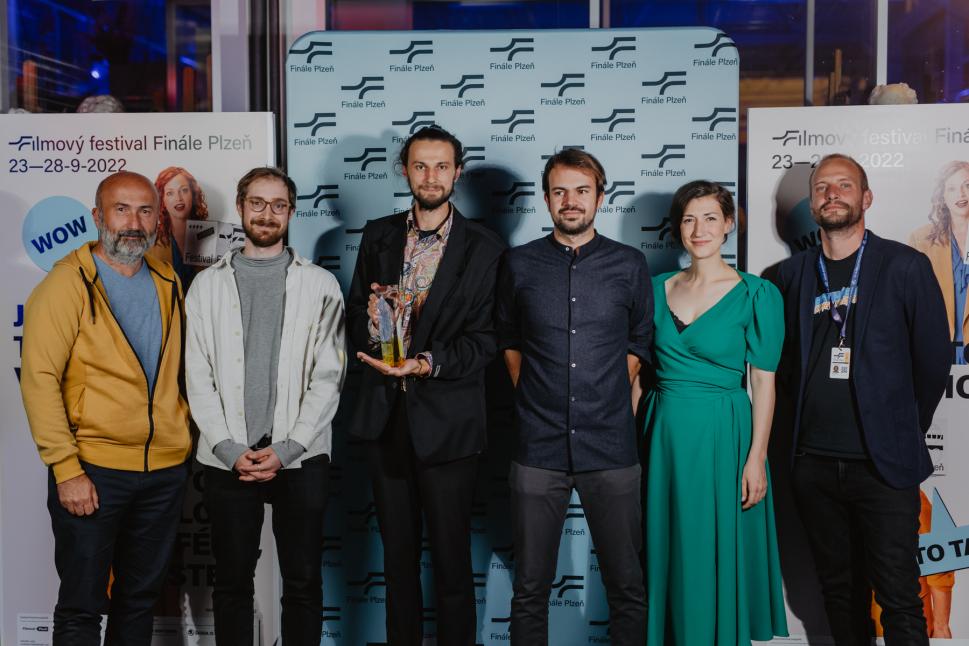 The Golden Kingfisher Award for the best feature live action or animated film
SOMEWHERE OVER THE CHEMTRAILS
d. Adam Koloman Rybanský
First of all, we would like to acknowledge the film 107 Mothers, a very powerful drama by Peter Kerekes, for telling an important story of motherhood and framing it in a delicate and compelling way. Also, we would like to applaud Adam Misik and Marsell Bendig for their amazing, vibrant performance in the film BANGER. by Adam Sedlak, in the roles of two young men exploring and pushing the limits of contemporary subculture.
And now, we would like to praise a film for its capacity of capturing the fears, hypocrisies and absurdities of human coexistence in the microuniverse of a small czech village. A tragicomedy which, through a myriad of recognizable (while particular) characters, succeeds in combining grotesque storytelling with social criticism, without wanting to be educative or moralist. A wonderful example of a social satire holding up a mirror to us, modestly thoughtprovoking and entertaining. This year´s Golden Kingfisher goes to Somewhere Over the Chemtrails directed by Adam Koloman Rybansky.
The Golden Kingfisher Award for the best documentary
HOW I BECAME A PARTISANE
d. Vera Lacková
The documentary jury appreciated the director´s personal commitment to historical justice and to making invisible things visible. She creates a moving story about Romea herritage and we truly believe that at this time decolonising narratives are vitally important. The award goes to How I Became A Partisan by Vera Lacková. We would also like to add that we appreciated the cinematic quality of "Brotherhood", and the social and human rights impact of Housing against everyone as well as René, which stands in a league of its own. We regret that we cannot give them a special mention.
The Golden Kingfisher Award for the best non-serial TV project and internet production
SUSPICION
d. Michal Blaško
SUSPICION is a high concept show about a nurse, who wants to reconstruct her life. But then she is accused of having killed a patient. She is alienated from society. But: did she do it? And why? And is that even relevant to the people around her? With its strong cinematic value and its incredibly convincing main character played by Kla ra Meli s kova SUSPICION addresses the universal, primal struggle of a woman, who is accused of murder. It combines the suspense of a thrilling whodunit tale with the personal and social impact of this life-changing accusation. With their great attention to details director Michael Blas ko and screenwriter S te pan Hulik presents us with the perfect perpetuator. But they engage us by always leaving the judging of the events up to the audience. Based on a real local case this show has the potential to entertain a global audience. As it accurately depicts the world we all live in today. A world, in which personal opinions, saving face and selfish acts seem to be more important than the truth.
The Golden Kingfisher Award for the best serial TV project and internet production
TBH
d. Lucia Kajánková
It is in our human nature to perceive ourselves as brave, supportive and conscientious. But when someone points a gun at your face: your values are put to the test. And you understand who you and your friends really are. TBH is an incredibly brave, fresh and innovative show about a local issue with an appeal for a global audience. Its well-crafted concept combines the universal theme of morals versus survival instincts with the current and very relevant issue of cyber bullying amongst young people. While TBH's lighthearted, colorful and personal tone is both sincere and entertaining, showing a different perspective of the events in each episode as each young character's insecurities and unresolved issues surface. Being made under incredibly tough circumstances TBH doesn't fail to deliver the heart and nuances of a great TV show. With their innovative and inclusive approach the Czech Television and Lucia Kaja nkova, a young and very talented female showrunner, showed us the potential of modern day television. As it demonstrates that great entertainment on screen and social change in the making of it go hand in hand!
The Golden Kingfisher Award for the best Student Short Film
MUM IS ALWAYS RIGHT
d. Marie Urbánková
The award goes to the film Mum Is Always Right for its highly creative craftsmanship, which carries not only humour but also a very important message for both children and adults. We really appreciate the playfulness and lightness with which the story is told.
Student Jury Award for the best feature live action or animated film
BORDERS OF LOVE
d. Tomáš Winski
The film impressed us primarily with its authenticity and emotional naturalism. It evoked many emotions in us and also questions to which we ourselves do not know a clear answer. What are the limits of honesty in a relationship? How thin is the line between fantasy and the fulfilment of sexual desires? We appreciate that the creators were not afraid to break the taboos of fidelity in a relationship and sexual exclusivity. We believe that it contributes to de-tabooing the topic and social discussion.
Student Jury Award for the best documentary
HEAVEN
d. Tomáš Etzler, Adéla Špaljová
The student jury chose the documentary film from contemporary China mainly due to its universal message, the need not to be indifferent to one's surroundings. One of the positively evaluated aspects of the film was the impressively depicted contrast between the "inner world" of a specific shelter for the disabled, full of unconditional love and care, and the "outer world", characterized by limited freedom, uniformity and ruthlessness of both the state apparatus and ordinary residents. The jury was also impressed by the creative approach, namely the adequate involvement of artistic elements and investigative journalism, with which the director has extensive experience. According to the jury, the director's knowledge of the local mentality acquired during his several years of residence there also has a positive influence on the documentary. In addition to the testimony of the time, the document also contains hope and at the same time appeals to society, especially one in which freedom and peace are seemingly certain, not to rest on its laurels and to appreciate the current state of affairs. It was not so long ago that these two words were the pious desire of many a citizen of Czechoslovakia…
Student Jury Award for the best non-serial TV and internet production
SUSPICION
d. Michal Blaško
The episode drastically stood out from other competitors, mainly due to the excellent acting of the main actress Klára Melíšková, which made us hate her character but at the same time we saw the whole situation through her eyes. Such a stunning performance brings the viewer deep into strong emotions, putting us in positions where we get to know the main character personally and understand why she reacts the way she does, and makes us understand how she feels. On the other hand, it awakens in us a strong sense of justice. This sense changes our hatred of the main character and instead makes us love her.
Student Jury Award for the best serial TV and internet production
TBH
d. Lucia Kajánková
In just 17 minutes, the THB series manages to awaken strong emotions in us about what is right and what is wrong. Thanks to the great director, Lucia Kajánková, and the entire cast. In the episode we see a lot of hidden messages and powerful touching moments, which could be useful for young people who are going through a similar experience of expressing feelings that are unusual for them towards the same sex, and could also be instructive for others to understand that there is only one love and we should not be afraid to express this beauty just because of homophobic condemnation. We decided that Czech Television, and especially young motivated people, need this support from the outside so that they can feel comfortable as they are.