Children´s Area at Festival Finale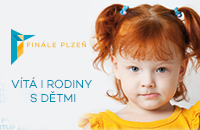 Would you like to go to the festival yet you have nobody to babysit for you? Take advantage of the Finale Plzen Kids Corner, organized in cooperation with Ceska televize. Short children stories screening included!
The Children´s Corner situated in the festival centre in Mestanska beseda is daily in order from 10.00am to 7.00pm for children up 3 years. For free.